AAI only holds tryouts prior to each spring season. The purpose of tryouts are so that each coach may get an evaluation of each player prior to the draft. All players will get an opportunity to field, throw, catch, hit, and run during tryouts. All registered players, with the exception of protected players, are expected to try out in order to be drafted onto a team. If a non-protected player does not try out during the scheduled tryout dates, he or she will be placed in the "Blind Draft". All registered players will be placed on a team.
DETAILS
Date: Saturday, February 8 and Sunday, February 9
Location: AAI Complex
Please arrive 15 minutes early to warmup, lineup, and be ready to start promptly at the noted start time(s).
6U Boys T-ball Division Tryouts
This division will be split into three different groups that will be sorted by last name. Please, read the schedule below carefully for Saturday's tryout if that's the day you plan to attend the tryout. Sunday's tryout is for all players and is NOT sorted by last name.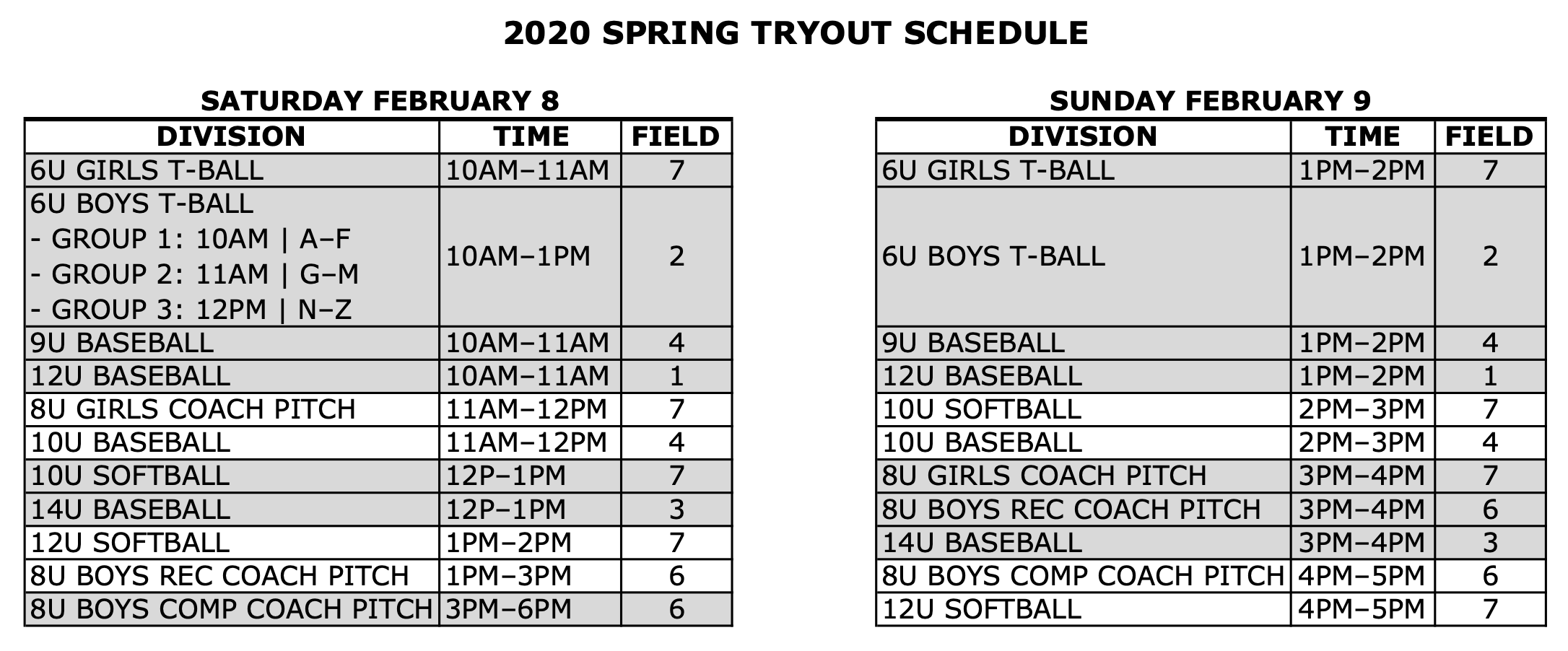 FAQ'S
Q: Do players have to tryout on both scheduled tryout dates?
A: No, players are only required to tryout once.
Q: What time should we arrive for the tryout?
A: Arrive 15 minutes prior to the scheduled start time for your division. For example, in the 8U Boys Competitive Division, the time slotted on Saturday is from 3pm to 6pm--arrive at 2:45PM so all players can be sorted out and ready to tryout. 
Q: Does my player have to stay through the whole tryout?
A: No, once your player fields/throws and hits, he or she is free to leave. 
Q: What happens if my child does not tryout?
A: Your child will still be placed on a team but he or she will be placed in the blind draft.
Q: What is a blind draft?
A: In a blind draft, players' names are written on a piece of paper and placed in a "hat" and coaches will select names from the hat to finish their rosters.
Q: What does my player need for tryouts?
A: At the minimum he or she will need a glove. A bat and helmet will be available for your child to borrow if needed.
Q: Does 4U Coed T-ball have tryouts?
A: No.

Q: What happens in case of bad weather?
A. The Aledo ISD Athletics department has graciously allowed us to use the indoor facility if bad weather is in the forecast. If the tryout is moved, an announcement will be made 24 hours in advance along with any schedule changes (if necessary). 
For questions or comments, email: info@aledoathletics.com